Write to us with any questions or for more information
To ensure your safety:
We apply a cleaning protocol;
We limit the number of customers in the sales office;
Physical distancing is respected by employees;
Wearing a mask is compulsory;
We make disinfection stations available to customers and employees.
1593 Clark Street
Montreal, Quebec
514 844 9090
info@laurent-clark.com
Opening hours
Monday to Friday : 11 a.m. to 6 p.m.
Saturday and Sunday : closed

DEVELOPMENT
For 30 years, our team has designed real estate projects that defi ne the urban landscape and contribute to the dynamic nature of Montreal living. Project after project, we rise to the challenge: to provide people with the comfort and quality of life to which they aspire. Our team is especially enthusiastic about the idea of creating a unique living space in the heart of the cultural metropolis.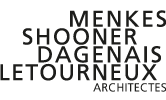 ARCHITECTS
We work at the crossroads of architecture, design, and urban and real estate development. Over the years, we have redefi ned major cultural spaces, and brought remarkable projects to life. Today, the Laurent & Clark joins the list of our other downtown Montreal accomplishments: the Espace Culturel Georges-Émile Lapalme at Place des Arts, the Grande Bibliothèque, the Centre for Sustainable Development, the Louis Bohème, and the future Maison Manuvie. As city hubs, our projects set themselves apart with architecture that becomes part of the public space, and through living spaces with a timeless quality.

INTERIOR DESIGN
We are a young, dynamic, and versatile team that brings our global expertise in design to each project, from the concept stage to production. Our approach, based on solid technical and artistic skills, favours open-mindedness, creativity, and communication. Always seeking new solutions, our team provides personalized service that makes each of our projects unique.